LG has been teasing the features of the G6 since last week. Till now, LG has released images teasing the G6's features, but, the company has now shared a video which gives us a glimpse of the smartphone's UI which is dubbed UX 6.0.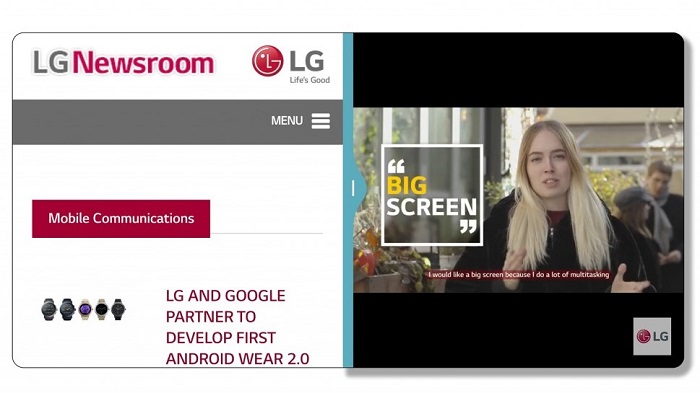 LG has not only shared the video, but, has also outed a statement which details some of the features on the UX 6.0. We already know that the G6 will be sporting a 5.7-inch QHD+ FullVision display which will have a resolution of 2880 x 1440 pixels because of the 18:9 aspect ratio. This has been done to achieve higher screen-to-body ratio, which would make it comfortable to hold the phone even with a bigger display. Well, LG says that UX 6.0 will utilize this FullVision display properly to provide enhanced experience to the user.
Here's what the UX 6.0 will offer:
Differentiated experience for viewing content such as video clips and web surfing.
Improved camera UX that maximizes the extra real estate provided by the 18:9 format display.
Smartly designed GUI (Graphical User Interface) that enables the opening of two perfectly square windows side by side, delivering a more productive, better multitasking experience.
The UX 6.0 will come with features like Square Camera and Food Mode. With Square Camera, users will be provided two adjacent squares. In one square, you can take a picture, whereas, in the other, you will immediately be able to review it. This mode will also let you take photos in 1:1 ratio, a format popular across social networks like Instagram.
Speaking of the Food Mode, it will provide high color quality and saturation to capture that exotic food. You will also be able to create GIFs by putting together 2 to 100 photos. Also, it's needless to say that bigger screens always aid in multi-tasking. Well, with the UX 6.0 on the G6, you will be able to open two apps at the same time, both of which will fit into a perfect square.
"The LG G6 with FullVision was inspired by the philosophy of experts in the movie industry who believe that an 18:9 ratio screen would be the best solution for viewing both old and new cinematic content in the digital age. We've not only embraced that philosophy in our newest smartphone but taken it to a whole new level by incorporating the 18:9 format in many other ways. I think users will appreciate the many ways we've made the LG G6 more productive." said Juno Cho, President of the LG Electronics Mobile Communications Company.
If you have seen past leaks of the G6, you would be aware of the fact that the screen has rounded corners. Well, this is confirmed with the teaser video which shows off screenshots having rounded corners. We are attaching the teaser video below if you want to check it out.
The LG G6 is going to be unveiled on February 26 so expect some more teasers coming from LG.