Exactly a week ago, we saw the live images of Google Pixel and Pixel XL which put rest to all the rumors about the design of these upcoming smartphones which are expected to be unveiled on October 4. Now today, we are looking at the leaked press render of Google Pixel which shows off new UI, icons and navigation buttons on the device.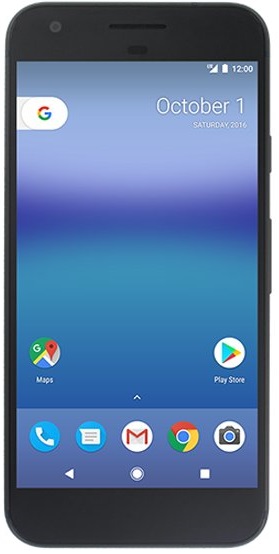 This render of Google Pixel comes from popular leakster Evan Blass who tweeted "This is the Google Pixel" along with the press render shown above. The press render is in line with the leaked image we saw last week. The front facing camera is on the top left side with earpiece in the center and sensors below it. The power button is on the right side of the device along with the volume rocker sitting below.
While we did see the design of the Pixel smartphones last week through the leaked images, the UI of the device was still unknown. However, this leaked render shows off the new UI on the device. You can see the Pixel Launcher along with the G (Google) widget, redesigned icons and the navigation bar. As can be seen, the navigation bar is now opaque instead of transparent.
Evan Blass, through VentureBeat, also confirmed that we will actually see Google unveiling the Pixel and Pixel XL smartphones on October 4. Just in case you are unaware, both the Pixel and Pixel XL smartphones were known as Nexus Sailfish and Nexus Marlin. However, Google has dropped the Nexus branding for these smartphones and will market them as Google smartphones (even though they are built by HTC).
Specs wise, there won't be much difference between the hardware of both these smartphones. Both will be powered by Snapdragon 820/821 and will come with 4 GB RAM. The only differences between both these smartphones will be the difference in screen size, screen resolution and battery capacity. The Pixel will be the smaller of the two at 5-inch with Pixel XL sporting a 5.5-inch display. The Pixel and Pixel XL are also said to be IP53 certified, making them water-resistant to certain level.
Talking about the pricing, these smartphones will be relatively expensive than the Nexus lineup as the base variant of Pixel is said to be priced at $649. Well obviously the Pixel XL will be priced much higher than that.
The unveiling is exactly a week away, and, there are chances we might come across more details before Google makes these devices official.