Lenovo is all set to launch the Vibe K5 Note in India on 1st of August and has been teasing a 4 GB RAM variant of the same. While its predecessor, the Vibe K4 Note, was exclusively available on Amazon India, the Vibe K5 Note will be Flipkart exclusive.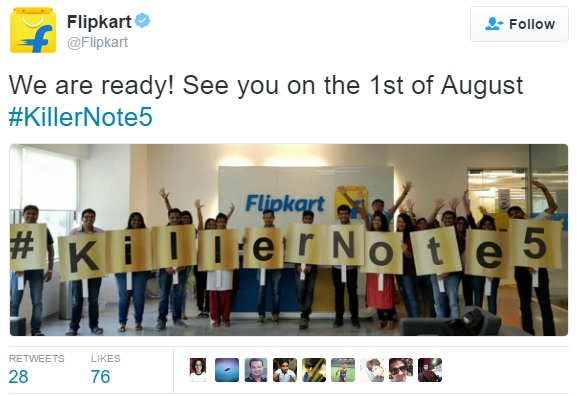 Flipkart took to social media to tease Lenovo Vibe K5 Note's exclusivity in India. Flipkart tweeted "We are ready! See you on the 1st of August #KillerNote5". Well, after looking at this tweet, it wouldn't take a genius to figure out that the Vibe K5 Note will indeed be exclusive to Flipkart in India.
Lenovo India also replied back to Flipkart on Twitter by tweeting "@Flipkart we'd give you'll a sneak peek for the enthusiasm, but looks like you're just going to have to wait. #KillerNote5 is coming!".
It's surprising to see Lenovo making the Vibe K5 Note exclusively available on Flipkart as the Vibe K4 Note was available on Amazon India exclusively. But again, we shouldn't forget that the K3 Note was Flipkart exclusive. The K5 Note was launched in China earlier this year with a price tag of CNY 1099 (around ₹11,100) so we should expect the price range to be somewhere between ₹11,500 to ₹12,500 as Lenovo is expected to launch the 4 GB RAM variant in India instead of 2 or 3 GB.
The launch is less than a week away now, but we expect Lenovo to share more teasers till the device is made official in India.