Chinese smartphone brand OnePlus launched the OnePlus 5T – a mid-cycle refresh to OnePlus 5 – on November 16. However, instead of running Android 8.0 Oreo, the 5T booted up to Android 7.1.1 Nougat out of the box. While the company has already rolled out the Oreo update for OnePlus 3, 3T and 5, the latest 5T is still running Android Nougat. Well, if OnePlus Germany's tweet is anything to go by, then the wait for Oreo on 5T should soon be over.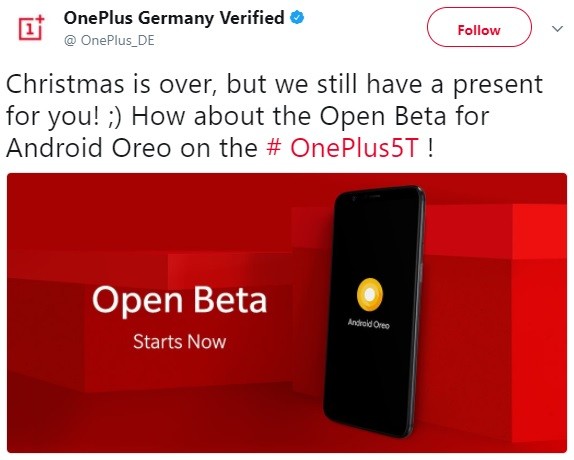 OnePlus Germany, on its Twitter account, has said that the Android Oreo based Open Beta update for the OnePlus 5T has started rolling out, however, there was no mention of the Oreo based Open Beta update for 5T on OnePlus Forums, and, neither is there any download link available on the downloads page of OnePlus 5T ROMs.
Well, it looks like OnePlus Germany made the announcement a bit too early, however, we are pretty sure that Oreo based Open Beta update for the 5T is just around the corner.
If we take a look at the beta program for OnePlus 5, the company rolled out two Oreo based Open Beta updates and rolled out the final build after a month. Hence, we wouldn't be surprised to see the 5T getting its final Oreo build after around a month from the release of Open Beta update.
Also Read: Top 18 Android 8.0 Oreo features you should know
For now, there's no word on when exactly the Oreo based Open Beta update would be available for 5T, but when it does, we will pass on that information to you.