The OnePlus 3 is all set to be launched tomorrow at 10 PM IST and will then go on sale in India from June 15 through Amazon India. The sale of OnePlus 3 will begin at 12.30 AM IST on Amazon India on June 15, that is immediately after it's launched. Fans can be a part of the launch with the help of OnePlus Loop VR headset which the company recently gave away.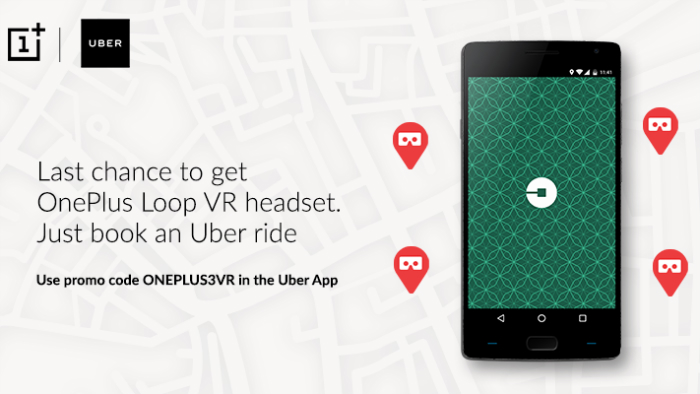 The Loop VR headset also went on sale in India through Amazon. However, the VR headsets were claimed pretty quickly and were out of stock in a minute. Hence, OnePlus has decided to give another chance to the fans who couldn't get the VR headset. OnePlus has teamed up with Uber to giveaway Loop VR headsets across 8 cities in India. Those 8 Indian cities are Bangalore, New Delhi, Bhubaneshwar, Mumbai, Pune, Kolkata, Chennai, Chandigarh.
"While a lot many of you have gotten your hands on the Loop VR Headset during the sale dates and partner giveaways, a large number of fans were left disappointed as even the tens of thousands of VR headsets being available for purchase were sold out in less than 5 seconds." wrote OnePlus on its forums.
"Hence, we got some more Loop VR Headsets for our community and tied up with Uber, one of India's premier transportation network company to bring quick on-demand Loop VR Headset delivery services to your city at your doorstep." OnePlus further added.
Here's how to get OnePlus Loop VR headset through Uber:
Download the Uber app and log in on June 14 from 3 pm to 5 pm
Enter promo code [ONEPLUS3VR]
After successfully entering the code, head back to the main screen and click on the [UBERVR] icon
You will receive a confirmation once you've successfully hailed a OnePlus cab and all you have to do is wait for your cab to arrive with your free Loop VR Headset
OnePlus also released 'The Loop' VR app on Google Play Store which will be needed to enjoy the VR launch of OnePlus 3. So, are you all set for the launch?