Back in November last year, we told you that WhatsApp was testing a feature that would let its users switch between video and voice calls quickly. Well, WhatsApp has finally rolled out that feature, however, it's currently only available to the beta users.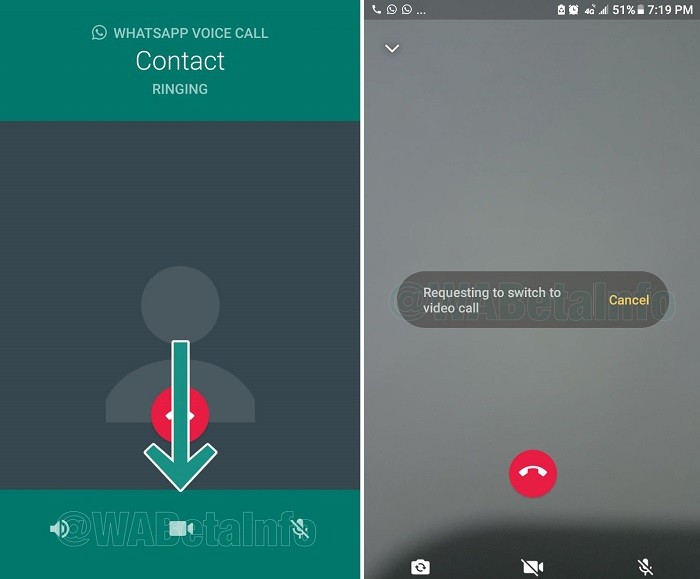 WhatsApp beta update with version 2.18.4 for Android now lets users quickly switch between voice and video calls. Well, WhatsApp does let its user make voice and video calls to each other. However, if the users want to switch from voice call to video call, they have to disconnect the ongoing voice call and then make a video call.
But, with the latest beta update, Android users no longer need to disconnect the ongoing call. They can easily and quickly switch from voice call to a video call by tapping on the video call button that appears on the call screen.
Well, while that sounds cool, there is one more step involved. When you tap on video call button to switch from voice to video call, the other person you are talking to will be first sent a request, and, the voice call will only switch to video call if the other person accepts that request.
This feature not only lets users quickly switch from voice to video calls, but lets them quickly switch from video to voice calls as well.
Also Read: How to send high quality photos on WhatsApp [Android Guide]
Also, needless to say, the version of WhatsApp that's installed on other person's smartphone also needs to support this feature, else the quick switch button won't appear on the calling screen.
Also Read: How to schedule WhatsApp messages on Android smartphone [Guide]
Like we already said, this feature is only available to Android users who are using WhatsApp beta version 2.18.4 and are having a smartphone running Android 6.0 Marshmallow or above. That said, now that this feature has been rolled out to beta users, it shouldn't take much time before all the users are able to use it. However, let us remind you that the inclusion of a feature in beta program doesn't guarantee that it will be rolled out to all the users. Things can always change.