Back in October last year, Facebook-owned WhatsApp rolled out a very important and a much-needed feature that helped many users save themselves from getting into an embarrassing situation. Yes, we are talking about the 'Delete for Everyone' feature that lets WhatsApp users delete sent messages on receiver's end. However, the biggest catch with this feature is that it only lets you delete messages within seven minutes, after that, you can't delete them on receiver's end. Well, that might change soon.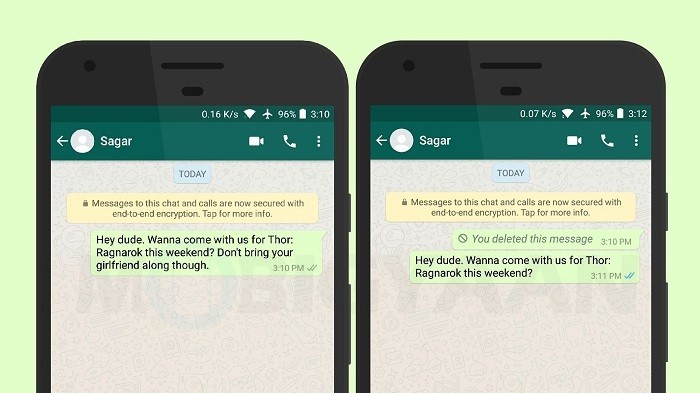 With beta version 2.18.69 for Android (and 2.18.30 for Windows Phone), WhatsApp has extended the limit of deleting the sent message. As we already said, until now, you could only delete a message on receiver's end till seven minutes from the time it was sent, however, WhatsApp with its beta update has extended that limit to 4096 seconds which is 68 minutes and 26 seconds.
Well, this increased time limit for deleting sent messages is very much welcomed. But again, like we already mentioned, this change has been introduced on the beta versions, which means there's no guarantee that WhatsApp will extend this time limit for all the users on stable, non-beta version of the app.
Also Read: How to delete sent WhatsApp message for all [Android Guide]
That said, WhatsApp has also made modifications to some Sticker icons in WhatsApp for Android's beta update, and, has also added the Live Location Sharing feature in WhatsApp for Windows Phone's beta version. In case you are unaware, this Live Location Sharing feature has been available for Android and iPhone users since last October.