Facebook-owned popular instant messaging app WhatsApp has come under fire in India from the Indian government for being abused to spread fake news and false information that has led to deaths of over two dozen innocent people in the country. To curb this menace, WhatsApp has started taking actions by rolling out new features. Two weeks ago, WhatsApp was found testing a feature called 'Suspicious Link Detection' to tackle the issue of spread of false information. Well now, it seems WhatsApp has made significant strides in the development of this feature as it has now started rolling it out to the users.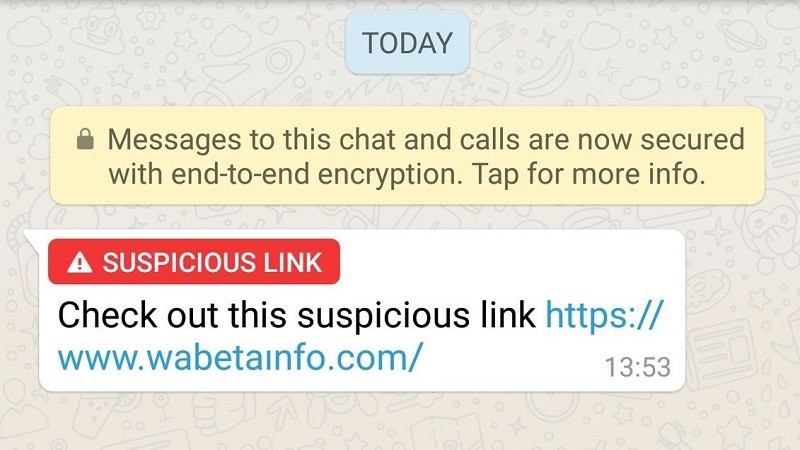 According to a report by WABetaInfo, WhatsApp has started rolling out this feature to Android users. However, this isn't currently available to all Android users. It's only available to those who are using beta version 2.18.221 of WhatsApp for Android. Everyone else will have to wait till WhatsApp rolls it out on the stable channel.
Having said that, if you are using WhatsApp beta version 2.18.221 and still don't see this feature, you can try re-installing WhatsApp to have it enabled. However, do make sure that you have backed up all your WhatsApp data before you re-install the app on your Android smartphone.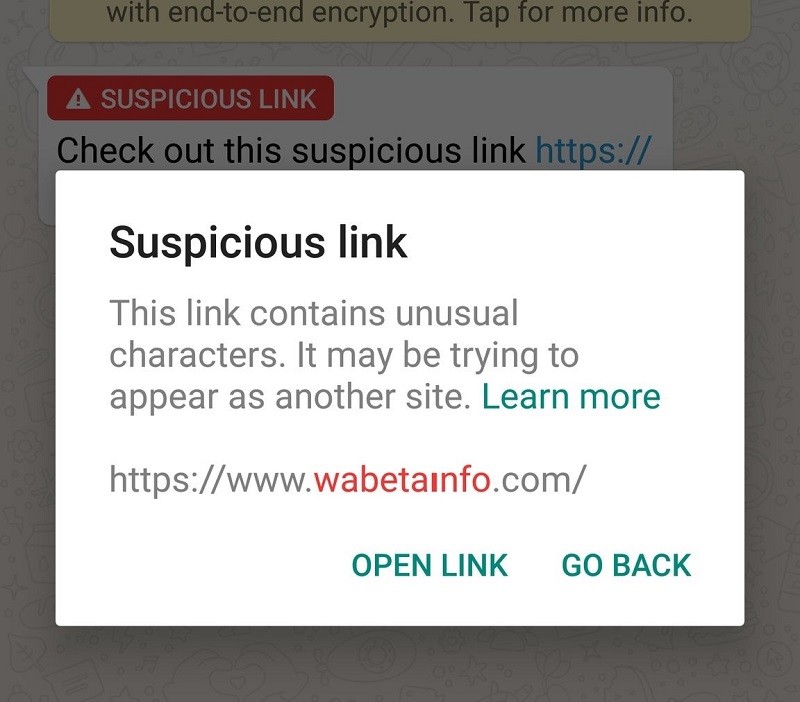 As the name suggests, this 'Suspicious Link Detection' feature detects whether a link you have received is trustworthy or not. If it is suspicious, it will be flagged as "Suspicious Link" with a red label on top of it. And, if you try to open that suspicious link, you will see a message that reads "This link contains unusual characters. It may be trying to appear as another site". There will also be two buttons – Open Link and Go Back. If you want to open a link that's flagged suspicious, you will have to tap on 'Open Link', and if you don't want to, then you have to tap on 'Go Back'.
Also Read: WhatsApp will soon limit message forwards to 5 chats at once in India
WhatsApp will carry out its detection locally, i.e., on your device. No data will be sent to WhatsApp's servers. Well, this has its pros and cons. Pros because no data will be sent to WhatsApp's servers, and Cons because there are chances that legit links might too get flagged as suspicious because they are not verified against an online database that on any given day would be more reliable.
Also Read: WhatsApp reportedly bringing its fake news verification model 'Verificado' to India for upcoming elections
However, at this moment, it looks like this feature is only flagging those links as suspicious that have some special characters. Well, by the time this feature is rolled out to all the users, we hope that it would have been improved, and will not only be limited to flagging links as suspicious that have special characters.