We already know about the upcoming WhatsApp for Android update which is set to bring the ability to disable the 'last seen at' feature. Now, we have screenshots from the private beta of WhatsApp for Windows Phone which suggests that those features are coming to Windows Phone as well.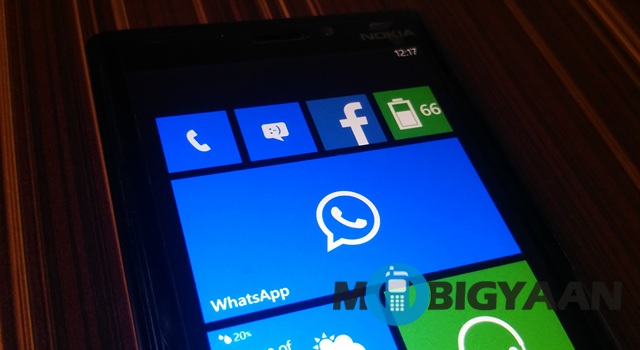 The screenshots we have shows us the new features that will soon make it to all Windows Phone users. The screenshots are from the version 2.11.380.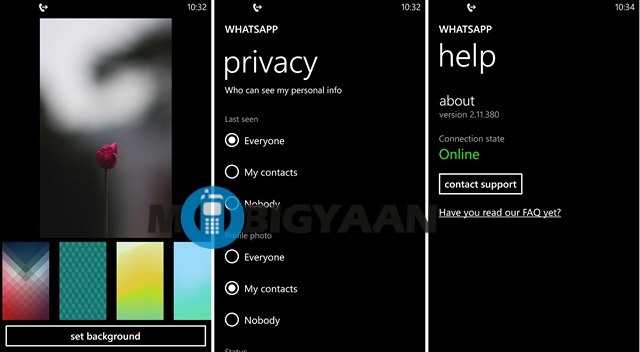 There's ability to change chat backgrounds which should add some much needed color to the otherwise blunt Windows Phone WhatsApp app.
We also get to see the new Privacy feature which lets you disable people from seeing your 'last seen at', profile picture and status update.
It is great WhatsApp working on bringing the new feature simultaneously for Window Phone. It is interesting to note that the WhatsApp Privacy feature is already available on iOS. While Android users can get the latest update through WhatsApp's website, the update is not live on the Play Store yet.
There's a lot going on at WhatsApp ever since the Facebook acquisition. We recently came to know that WhatsApp is planning to bring the voice calling feature later this year. So, yeah, the developers at WhatsApp haven't gone for a holiday yet.
Coming back to the upcoming WhatsApp for Windows Phone update, Windows Phone users should get these new features soon through an update from the Store and as always we'll let you know. Till the, tell us what you think of these new upcoming WhatsApp features?
Thanks Devershi for the tip!