If you think that around Rs. 50,000 is too high a premium for the Samsung Galaxy S5 or at Rs. 69,990, the LG G Flex is ridiculously expensive, then you need to venture out more. Well, there are smartphones out there, whose price will bowl you over. These phone cost not in hundreds, not in thousands, but…get ready for it – in millions!
We have hunted around the net and found out the most outrageously priced phones from around the world. Whatever you imagine a phone could be embellished with, these phones offer it. They go above and beyond and whether it be gold, diamonds or anything else – these phones have it all.  We would go as far as to say that these phones are not just smartphones, they are actually expensive pieces of jewellery too.
It is also noteworthy that all these phones are iPhones, since luxury smartphone makers tend to think that Android iterations move on too fast for their phones to remain premium. Not just that, they were all designed by one man called Stuart Hughes!
So, without further ado, here are the five most expensive smartphones in the world.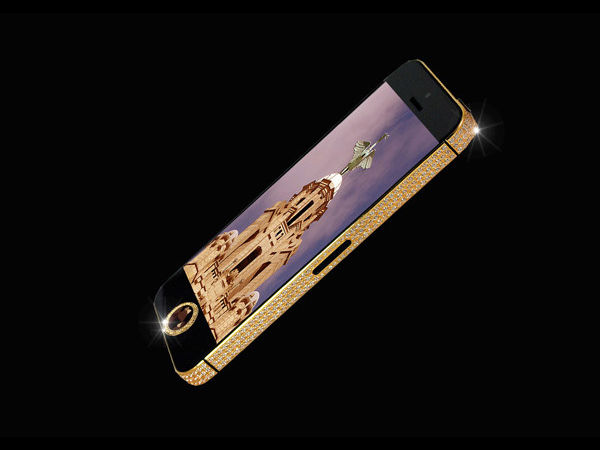 iPhone 5 Black Diamond Edition
Valued at: $16.5 Million 
This phones is more expensive than a Ferrari! The iPhone 5 Black Diamond Edition is designed by UK-based designer Stuart Hughes. Wonder where it got its name? This iPhone is endowed with a 26-carat flawless black deep cut diamond. The chassis of this iPhone is laid with 600 white diamonds and the Apple logo at the back is laid with 53 more. Not only that, it's display is laid with Sapphire glass, which is something Apple is working on for its future iPhones. This is more resistant to scratches than a normal display. Just one iPhone 5 Black Diamond edition has been designed and is currently owned by a Chinese Businessman.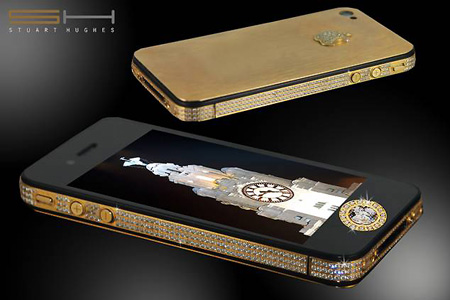 iPhone 4S Elite Gold edition
Valued at: $9.4 Million
I am actually impressed by Mr. Hughes' endevors with the iPhone. Next on the list a $9.4 Million iPhone 4S. It comes with 500 flawless diamonds and 24 carat gold on the sides. Along with that, the Apple logo is embellished with 24 carat gold and 53 diamonds. The whole smartphone is hand crafted.

iPhone 4 Diamond Rose Edition
Price: $8 Million
The third most expensive phone in the world, surprisingly, is made by the same man who made the world's two most expensive phones – Stuart Hughes (I would trade places with him in a second).
The iPhone 4 Diamond Rose edition comes etched with 500 flawless white diamonds in addition to a rose gold Apple logo embossed  with 53 diamonds. As if that wasn't enough, there is a 7.4 carat pink diamond right on the home button. Only two of these have been made on order. (Clink, clink – it is raining money for Mr. Hughes)
iPhone 3GS Supreme Rose
Valued at: $3.2 Million
Ugh! Frankly I am getting sick of Mr. Hughes and his riches. But the guy seems like a nut for iPhones. The next phone on our list is –  turn back the clocks, an iPhone 3G. This smartphone is designed with 130 flawless white diamonds along with 4 pink baguette diamonds, each weighing 2.5 carats. The back is made of 18 carat gold and contains an Apple logo with 53 diamonds. (Is 53 his lucky number?)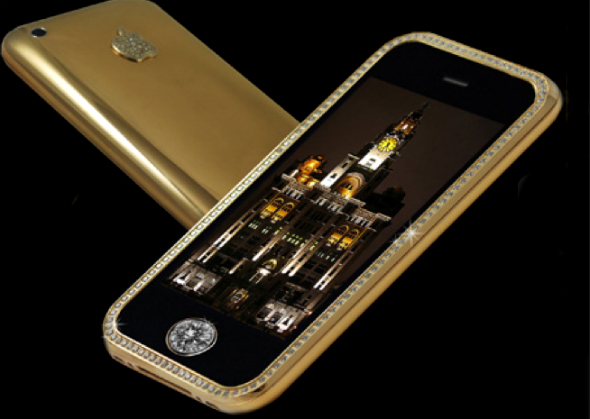 iPhone 3GS Supreme
Valued at: $3 Million 
Even though this phone figures at the bottom of our list, it is in no way cheap. The  iPhone 3GS Supreme is made of 22 carat gold and comes etched with 130 diamonds inside. The Apple logo, once again has 53 diamonds, while the home button is encrusted with a single cut 7.1 carat diamond. This phone made from a single block of Kashmir Gold and seems like a fantasy. (Even though it is an older version of the iPhone, I would trade it for my current phone in a heartbeat.)
If you are both enamored by these phones and sad that you can't afford them, we would advise you to console your heart with a Samsung Galaxy Note 3 Rose Gold edition, or HTC One M8 Gold version or even the gold colored LG G2.