Facebook owned Instagram has rolled out quite a few features this month – like Stories Archives and letting users follow hashtags. Now, Instagram is rolling out yet another feature which lets users share their live videos through direct messages.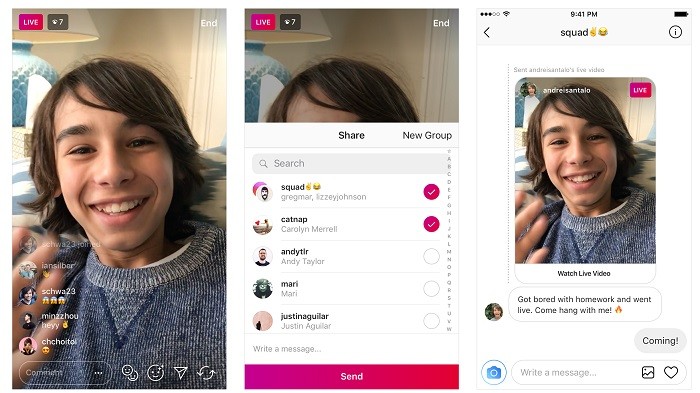 Yes, you read that right. You can now share your live videos with your friends through direct messages, because after all, there's no fun live broadcasting if your friends don't see it. Right? Well, to share your live video through direct messages, all you have to do is tap on the Direct icon (that paper plane icon) that appears at the bottom-right corner of the screen while live broadcasting, select the friends you want to share it with, and tap Send.
Once the live video is shared, the recipient will see it in his Direct Inbox from where he can see your live video. However, it's worth noting that your friends will only be able see to your live video that you shared through direct messages if you are currently live. If the live broadcast has ended, then they won't be able to see it.
That said, you can always disable the option to send live videos through direct messages from Story Settings. Also, needless to say, if your account is private, then only your followers will be able to see your live video.
Also Read: How to upload Instagram Story from mobile browser [Android Guide]
Furthermore, if you are watching someone else's live video, you can share it with others by tapping on the Direct icon located at the bottom of the screen.
Also Read: How to find your top Instagram posts of 2017 [Guide]
This new feature is rolling out as a part of update version 26 for both Android and iOS, hence, make sure that you are having the latest version of Instagram installed on your smartphone.
Download Link: Instagram for Android | Instagram for iOS