The LG G3 leaks fail to stop as we have another one. This time we have come across various screenshots allegedly from the LG G3. The screenshots are similar to the one we saw previously, so they all seem credible.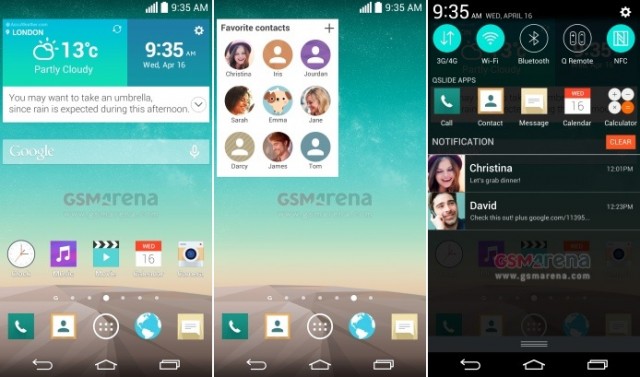 The leaked screenshots shows us the brand new flatter UI and they also confirm the QHD resolution (2560x1440p) of the display. The new interface goes the flatter way, which is the way all the mobile industry has been moving of late. All the icons and interface elements have been toned down to give way for the flatter look.
In the very first screenshot, you might have noticed the text, "You may want to take an umbrella since rain is expected during this afternoon". It is a new feature that will part of the new software and it will integrate the weather forecasts with your daily routine to give you contextual notifications. The screenshots are in QHD (2560x1440p) resolution, which is rumored for the LG G3 display.
In LG G3 news, the mockup of the device leaked recently showing what the next LG flagship is going to look like. We also came across a leaked retail box of the device, which confirmed the existence of a gold variant. The device will supposedly be based on the leaked LG Isai Fl, which is Japan bound. Its "mini" variant, the LG G3 mini also leaked recently through an internal document.
The LG G3 is rumored to be launching in May or June, so it will not be long until we know everything about the device. Till then, we are pretty sure we'll come across a lot of rumors and leaks of the device.