Around three months ago, we came across a report which stated that Facebook-owned popular instant messaging service WhatsApp would start showing advertisements from next year. Until now, we didn't have any word from either WhatsApp or its parent company Facebook about serving ads in the app, but now, a high-ranking WhatsApp executive has finally confirmed that WhatsApp will indeed start showing ads inside the app soon.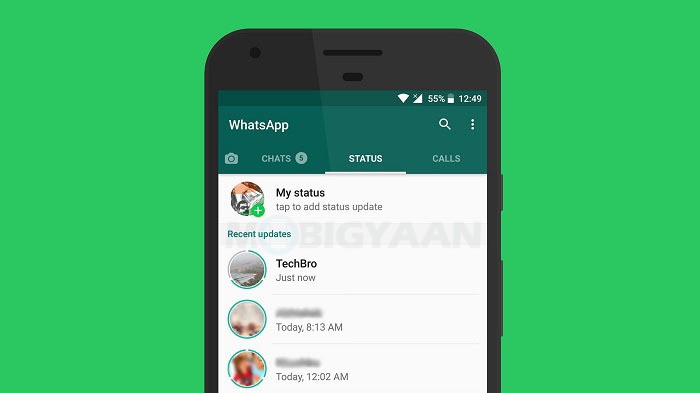 WhatsApp Vice President Chris Daniels has confirmed that the company will start showing ads inside the app. The ads will be displayed in the 'Status' tab which is accessed by swiping right when you open the app.
"We are going to be putting ads in 'Status'. That is going to be primary monetisation mode for the company as well as an opportunity for businesses to reach people on WhatsApp." said Daniels.
Daniels didn't reveal when exactly will WhatsApp start showing ads in 'Status', but if a previous report is to be believed, then this will happen sometime next year.
WhatsApp, which was initially a subscription-based messaging service, became free-to-use a couple of years ago, however, Facebook, who acquired WhatsApp at a whopping $19 Billion in 2014 has been wanting to monetize the app and start generating revenue. This is one of the reasons why both WhatsApp founders – Brian Acton and Jan Koum – left the company.
While we don't really like the idea of seeing ads in WhatsApp, we can understand that Zuckerberg and Co. must be wanting some returns on their acquisition now. After all, the app has more than 1.5 Billion people users the world, over 250 Million of which are in India itself. With a user base that huge, we can see why Facebook couldn't let go of an opportunity to make some moolah by serving ads inside the app.
Speaking about the 'Status' feature, it was rolled out last year in February and is a clone of Snapchat Stories. It allows users to share photos, videos, GIFs and colorful texts that disappear automatically after 24 hours. After rolling out this new 'Status' feature, WhatsApp renamed the old Status to 'About'.
Like we said, there's still no word from WhatsApp about when exactly will it start showing ads inside the app, but once it starts doing that, we expect to see many users switching to apps like Telegram.
What are your thoughts about WhatsApp showing ads in the app? Would you prefer seeing these ads to keep using the app for free? Or would you rather prefer paying a small amount like before to keep the ads at bay. Let us know what you think.