WhatsApp has hit yet another milestone, which further reaffirms its position as the world's topmost instant messenger. The company has revealed that they have hit a new record of daily messages by handling 64 billion messages in a single day.
Out of the total 64 billion messages, 20 billion messages are sent and 44 billion messages received. The numbers differ since some messages are sent to group chats as well, where a single message sent is received by a number of people.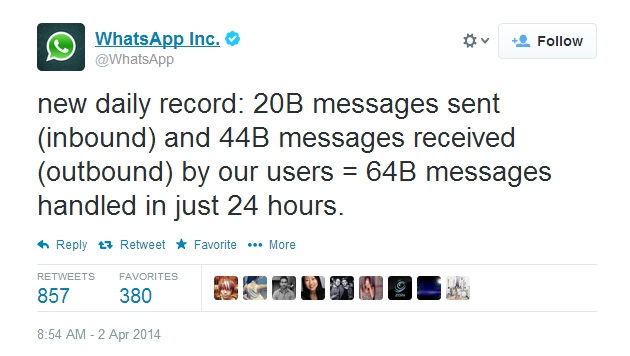 WhatsApp has been a lot in the news of late due to several reasons. Facebook recently announced that it will acquire WhatsApp for a whopping $16 billion, it faced an outage benefitting rivals like Telegram, it was under some scrutiny over security issues. But all of these issues don't seem to be affecting the growth of WhatsApp whatsoever. Previously, less than a year ago, WhatsApp revealed that it processes 27 billion messages daily and the current number is more than double of that.
WhatsApp has been busy bringing out major updates to its Android and iOS app. Windows Phone users too should get a major update soon. We should see WhatsApp growing further in the coming months, with the much requested voice calling feature coming to the instant messenger later this year.