Airtel launched its Airtel 5G Plus services in Bhubaneswar, Cuttack, and Rourkela in Odisha. The company said it has deployed the 5G services at the Kalinga and Birsa Munda stadiums in Bhubaneswar and Rourkela, respectively, which are hosting the forthcoming Men's Hockey World Cup. Airtel has already expanded its 5G services in Hissar, Rohtak, Indore, Jammu, Srinagar, Ahmedabad, Gandhinagar, Imphal, Shimla, and more cities and at numerous locations in India after its first 5G announcement.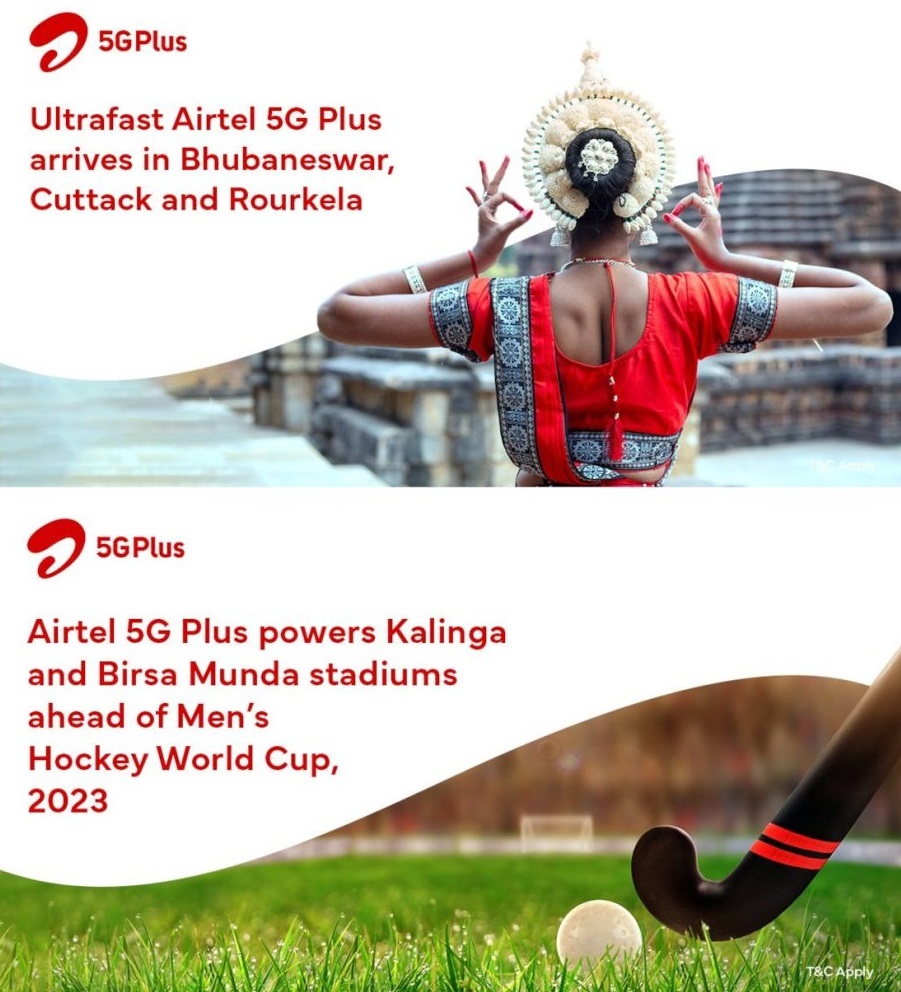 Areas covered in Bhubaneswar
Airtel 5G Plus is currently operational at Nandan Vihar, Prashanti Vihar, KIIT, Kalarahanga, Chandaka Industrial Estate, Infocity, Kanan Vihar Ph I & Ph II, Sailashree Vihar, Niladri Vihar, Gadakana, Shree Vihar, Chandrasekharpur, BDA Colony, East Coast Railway Colony, XIMB, Fortune Tower, Maitree Vihar, Jaydev Vihar, Ekamra Kanan Park, Jagannath Vihar, IRC Village, Kalinga Stadium, Beherasahi, Shastri Nagar, CRPF Square, Sum Hospital Area, Bharatpur, Khandagiri, Aiginia, Kalinga Nagar, Kalinga Vihar, Jagamara, Dumduma, AIMS Hospital, Patrapada, Acharya Vihar, Chakeisiani, Rasulgarh, Sahid Nagar, Satya Nagar, Kharavela Nagar, Master Canteen, Rajmahal, Bapuji Nagar, Forest Park, Ganganagar, Kalpana, BJB Nagar, Lewis Road, Ravi Talkies, Samantarapur, Bargada BRIT Colony, Laxmisagar, Chintamaniswar, Palasuni in Bhubaneswar.
Areas covered in Cuttack
Airtel 5G Plus is currently operational at Balikuda, Gopalpur, Kalyaninagar, Balisahi, Rajendra Nagar, Nuasahi, Nayabazar, Mahanadi Vihar, Chauliaganj, OMP, Railway Station, Malgodown, Shankarpur, Badambadi, Dolamundai, Choudhury Bazar, Balubazar, Darghabazar, Machhuabazar, Beparisahi, Barabati Stadium, Chandimandir, Kanika Chhak, CDA Sector – 6, CDA Sector – 7, CDA Sector – 10, CDA Sector – 11 in Cuttack.
Areas covered in Rourkela
Airtel 5G Plus is currently operational at Basanti Colony, Chhend, Birsa Munda Stadium, Jagada, Daily Market, Bandhamunda, Udit Nagar, Civil Township, Railway Station, Kalunga Industrial Area in Rourkela.
Commenting on the launch, Soumendra Sahu, COO – Odisha, Bharti Airtel said, "We are thrilled to power the two stadiums hosting the men's hockey world cup. While at the stadium, customers can experience superfast network that will allow them High Definition video streaming, multiple chatting, instant uploading of photos & videos and more. We are also launching our 5G services in the twin city of Bhubaneswar & Cuttack and Rourkela. Customers can now experience ultrafast network and enjoy speeds upto 20-30 times faster than the current 4G speeds. We are in the process of lighting up the entire state which will allow customers to enjoy superfast access to High-definition video streaming, gaming, multiple chatting, instant uploading of photos and more."
Airtel said it will augment its network making its services available across the city in due course of time. Airtel has rolled out its 5G services in multiple cities including Delhi, Mumbai, Bengaluru, Chennai, Hyderabad, Nagpur, Siliguri, Varanasi, Panipat, Gurugram, Guwahati, Patna, and Lucknow, and various Airport locations, Universities, Temples, and a few others in the Q4 2022.
Airtel has already confirmed that it will cover its 5G services in all of urban India in 2023 and then across the country by March 2024. Since the existing Airtel 4G SIM is 5G enabled, no SIM change is required to enjoy 5G services.