Yesterday we told you that the OnePlus 6T is confirmed to come with in-display fingerprint scanner. The 6T is expected to launch next month and will be a mid-cycle release to the OnePlus 6 that was launched back in May. A render of the 6T that leaked last week showed us what the smartphone could look like, and now, a live image of what's allegedly the 6T has leaked online showing the frontal side of the phone.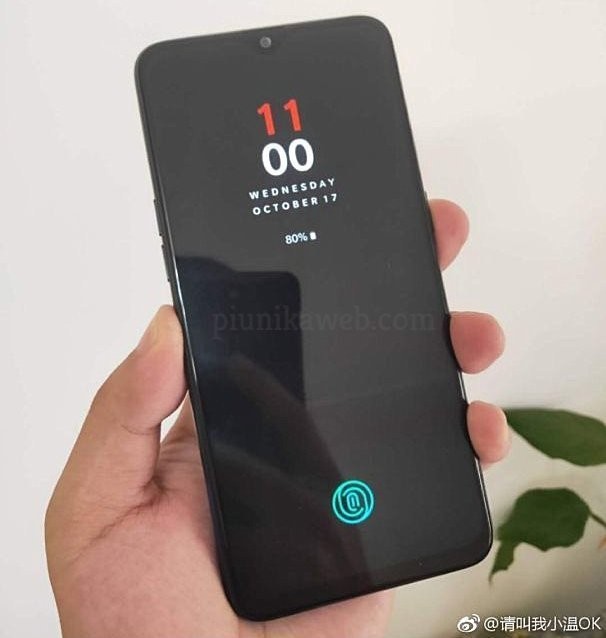 This image (attached above) of the alleged OnePlus 6T shows the lockscreen that we saw from OnePlus yesterday. It has the same October 17 date, same time, same battery percentage, and, the same in-display fingerprint scanner icon at the bottom.
The image also shows that the smartphone has a water drop shaped notch up top. Also visible are the volume buttons on the left side of the phone. In short, the front side of the 6T does look like the OPPO R17 and R17 Pro that were launched in China last week. In fact, the OnePlus 6T is believed to look like the OPPO R17 Pro – except that it may not come with triple rear cameras. But again, you never know.
Coming back to the image in question, it's difficult to ascertain its veracity because it's not all that difficult for people with knowledge of tools like Photoshop to create a fake image by putting the lockscreen image OnePlus shared yesterday on the front of an OPPO R17 or the R17 Pro. Hence, take it with a pinch of salt.
The OnePlus 6T is expected to launch next month on October 17. While we are still more than a month away from the expected launch, you can expect more information pertaining to the 6T to pour over on the Internet in the coming days.