Mukesh Ambani led Reliance Jio disrupted the Indian telecom sector with its entry last year. Offering free 4G data followed by offers like Summer Surprise and Dhan Dhana Dhan helped this telecom operator garner 125 Million customers in a span of 11 months. However, it seems the company isn't done yet as Mukesh Ambani yesterday announced its 4G VoLTE enabled feature phone called JioPhone.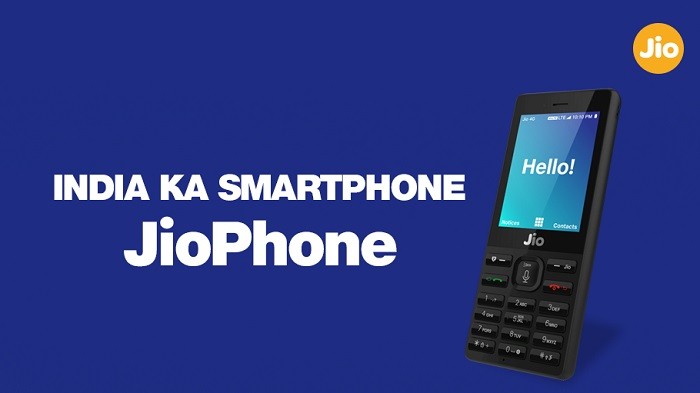 Advertising the JioPhone as 'India ka smartphone', Reliance Jio intends to reach the 50 crore feature phone users who are devoid of Internet access. With the 4G VoLTE enabled JioPhone, the company wants to get those 50 crore people on the 4G network without them having to buy entry-level smartphones which they may not be able to afford. If you are still confused and unaware of what's on offer with the JioPhone, then read on as we tell you everything that you need to know about the JioPhone.
Everything you need to know about the JioPhone
1) The JioPhone is 'effectively free'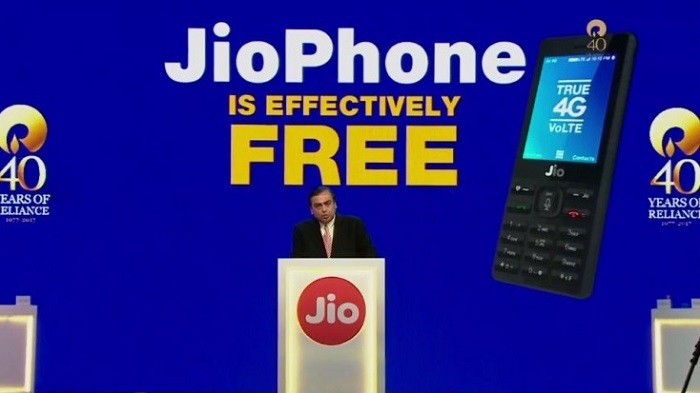 Yes, you read that right. The JioPhone is effectively free, which means that there won't be any charges to buy this phone.
2) But, you have to pay security deposit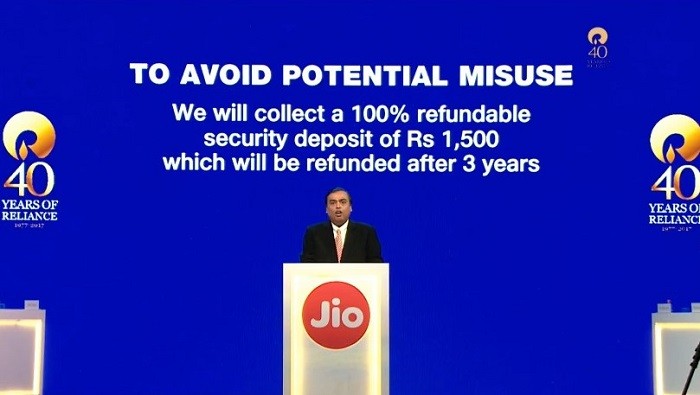 Well, even if the JioPhone is effectively free, customers will still have to pay a security deposit of ₹1500. This deposit is 100% refundable and the customers will get it back after three years when they return the phone. Jio says that the deposit is collected to prevent any misuse.
3) Beta testing kicks off from August 15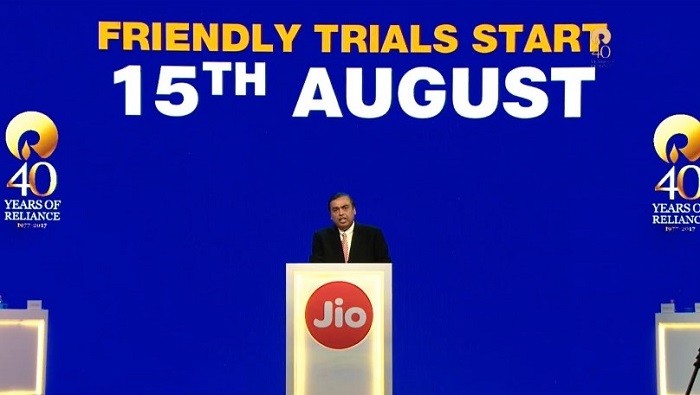 The JioPhone isn't going to be available any sooner, however, beta testing kicks off from August 15 which is India's Independence Day. Having said that, the JioPhone will only be available to limited number of users for testing.
4) JioPhone can be pre-booked from August 24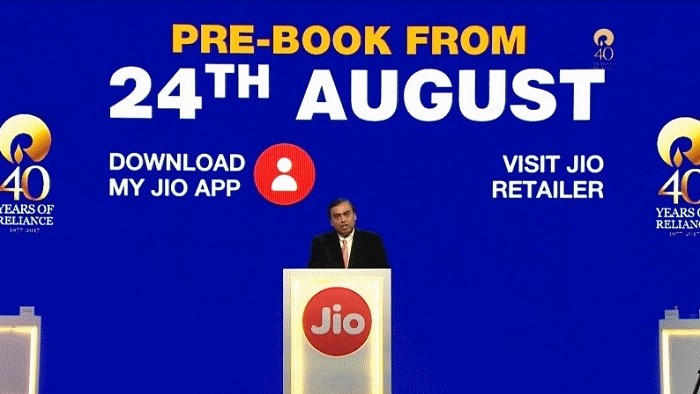 Starting August 24, customers will be able to pre-book the JioPhone. It can be pre-booked either from the MyJio app or by visiting a Jio retailer.
5) Available to customers from September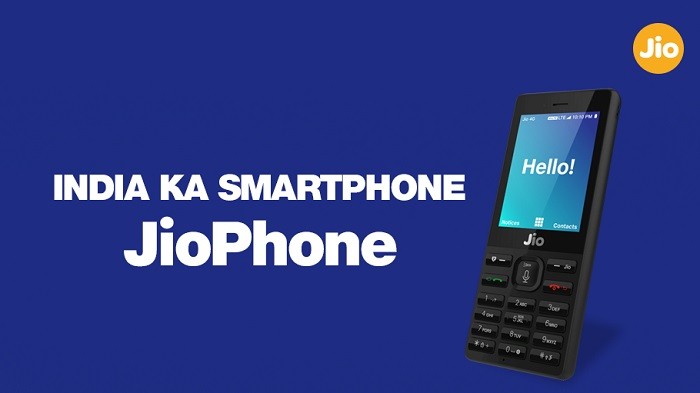 The JioPhone will be available to the customers from September, however, it will be available on a first-come first-serve basis. Hence, if you really want to get one, you will have to be quick enough once it hits the shelves.
6) Customers will get access to Jio services with JioPhone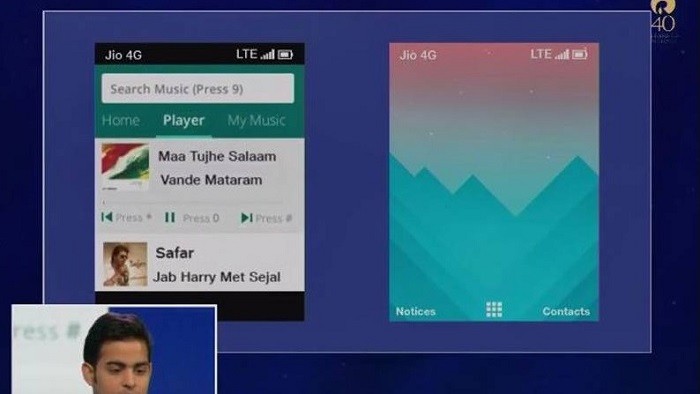 JioPhone users will also get access to Jio Services like JioTV, JioCinema, JioMusic and more. Apart from that, other apps like Facebook are also supported, but, at this moment, JioPhone has no support for popular messaging app WhatsApp. It remains to be seen if Jio rolls out support for WhatsApp in the coming days or promotes its JioChat app instead.
7) Unlimited data, voice calls and free SMS at ₹153/month exclusively on JioPhone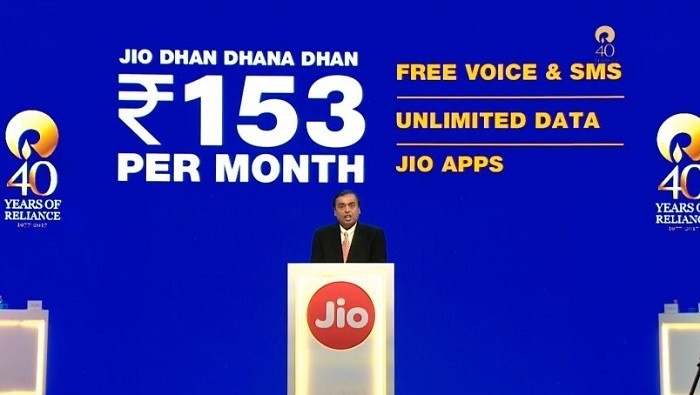 JioPhone users will be able to get unlimited data, unlimited voice calls and free SMS (100/day) for ₹153/month. This plan will be a part of Jio's Dhan Dhana Dhan offer, and, will be exclusively available to JioPhone users only. Besides, the users will also have access to all the Jio apps. Speaking of the unlimited data, user's will only get 500 MB of 4G data every day, post exhaustion of that data, speed will be throttled down. Well, this means the users will get around 14 GB of 4G data for 28 days at ₹153/month.
8) You can mirror the screen of JioPhone on your TV with JioPhone TV Cable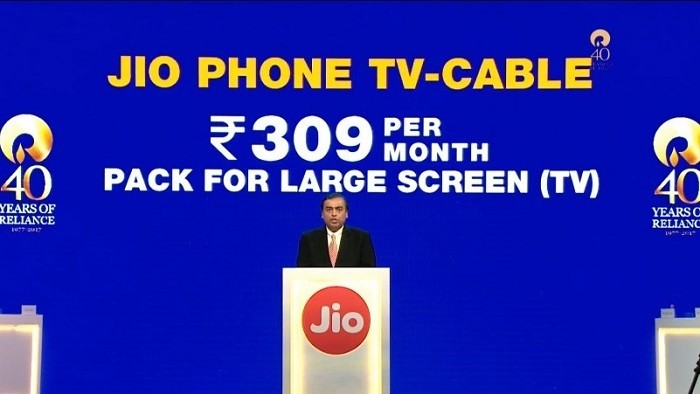 Yes, that's right. JioPhone users can mirror the content of their JioPhone on their TV, which means they can play their favorite TV shows and movies on JioPhone and watch them on a larger screen. Cool, right? Well, what's more cool is that the TV need not be a smart TV. Users can mirror the content on a CRT TV as well. This can be done using the JioPhone TV Cable that was announced yesterday. However, to be able to mirror the content on the TV, users will have to to go for the ₹309/month plan.
The ₹309/month is also exclusively available for JioPhone users only, however, the difference between the ₹153 and ₹309 plans is that the former has a FUP limit of 500 MB 4G data a day whereas the latter has a limit of 1 GB 4G data a day.
9) Sachet packs are also available for those don't want to spend more
Jio also announced two sachet packs for those who can't afford or want to spend ₹153/month. The first pack, which is priced at ₹24 has a validity of two days, whereas, the second one priced at ₹54, has a validity of one week. Like the ₹153 and ₹309 plan, these two plans are also exclusively available for JioPhone users.
10) Support for NFC, Digital Payments and Voice Commands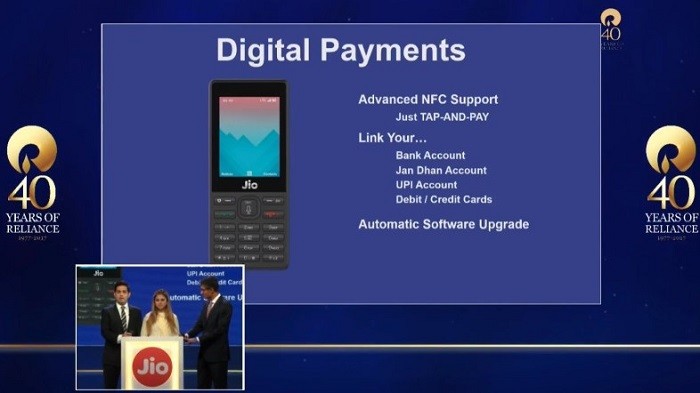 The JioPhone comes with NFC chip, however, it's not activated yet. It will be activated later on through a software update which will allow users to make digital payment through tap-and-pay solutions. Besides, the users can also link their bank accounts, UPI accounts and more to make digital payments. Moreover, the JioPhone also supports voice control which means users can perform actions like making a call or sending a message just by giving a voice command.
11) JioPhone will be made in India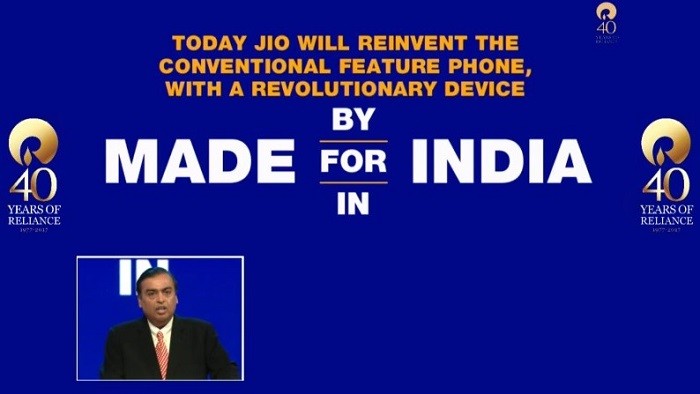 Mukesh Ambani, after announcing the JioPhone and its plans yesterday, also announced the phone will be made in India. There's no information right now as to who will manufacture the JioPhone, but, recent reports state that it will either be Intex or Micromax.
Specifications of JioPhone: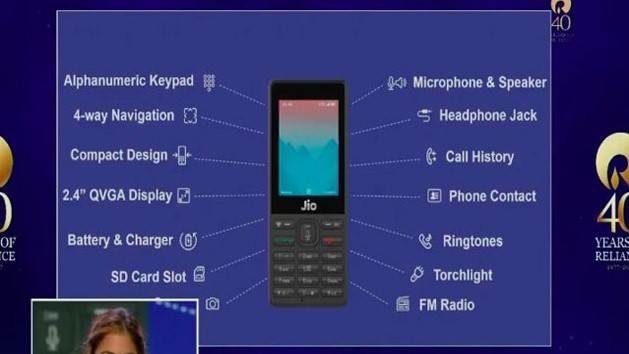 Display: 2.4-inch QVGA display
OS: KAI OS
RAM: 512 MB
Rear Camera: 2 MP
Front Camera: VGA
Internal Storage: 4 GB
External Storage: Expandable up to 128 GB via microSD card
Connectivity: FM Radio, 3.5 mm headphone jack, Bluetooth, NFC, Wi-Fi
Other: Torchlight, SOS feature (long press number 5 to send distress signal with location data to emergency contact)
Battery: 2000 mAh
The specifications of JioPhone haven't been revealed yet, however, the specs mentioned above is what it might come with.
So, are you going to buy the JioPhone?
Also Read: Reliance Jio revises old plans, now offering unlimited data for 84 days at ₹399