Apple is holding its WWDC developers conference from June 2-6 this year and we expect a lot of iOS 8 announcements at the conference. Today, we have an alleged screenshot of the iOS 8, which is supposedly taken from an iPhone 6.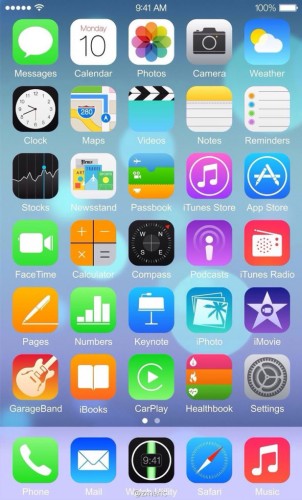 The iPhone 6 and the iPhone 6 phablet are rumored to come with a 4.7-inch and 5.7-inch display respectively and the screenshot plays along with those rumors. We get to see a 5×7 icon grid in the screenshot rather than the usual 4×6 icon grid we are used to from the previous iPhones. The resolution of the screenshot is higher than the previous iPhones at 1600×966 pixels, which would give it a resolution of over 400 ppi on a 4.7-inch display.
The screenshot looks like the real deal and we don't really see any kind of editing or Photoshop work done either. We get to see various apps like the he iWork and iLife suites, which we aren't used to seeing in default iOS builds. There are the new rumored apps as well like the Healthbook, CarPlay and Watch Utility. The Watch Utility app hints at the long rumored iWatch.
We recently came across another iOS 8 image leak, which showed some new apps dubbed Preview, Tips and TextEdit but they are nowhere to be found in this new screenshot we have come across.
Although the screenshot looks a lot real but we would still suggest you to take it with a pinch of salt. The iPhone 6 is still months away but the bigger display packing iPhone seems a confirmed deal to us. We'll have to wait and watch to know more concrete details and as always we'll let you know.