We loved the LG G2 and we are keenly awaiting the successor to it, which is aptly rumored to be the LG G3. The rumor mill has been churning out consistent rumors around the LG G3 and we might see the LG flagship get unveiled in June. Today, we have a new report, which confirms some specs of the next LG flagship.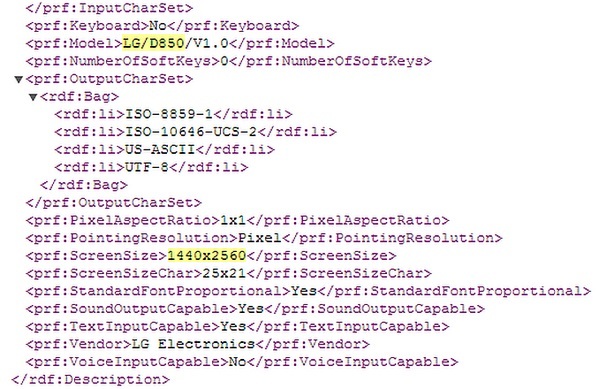 We recently came to know about the model numbers of the LG G3 variants- LG D850 and D851. We have come to know about the LG D850, which is possibly one of the variants of the LG G3. The info comes from LG's very own website, where the user agent profile suggests that the LG D850 will feature a Quad HD (1440 x 2560 pixels) display. All the rumors around the LG G3 have suggested a QHD display to feature in the device and this info sure confirms it.
LG has upped the ante with the LG G2 and we expect nothing but the best with the LG G3. Although LG launched its flagship phablet, the LG G Pro 2 at MWC last month but we are surely awaiting the LG G3. Other rumored specs of the LG G3 are – 5.5-inch display, LG's home grown 'Odin' Octa processor, a 16MP camera. The device is also rumored to feature a fingerprint scanner and be dust and waterproof. If the rumors are true then the LG G3 will be the reference model for the Nexus 6. So, tell us, are you awaiting the LG G3?