Microsoft announced the Windows Phone 8.1 update at MWC last month and the Redmond giant plans to detail the update at its annual Build conference in April. Today, we have more clue that things are moving quickly at Microsoft. At Windows Phone's official website, there is a mention of Windows Phone 8.1 in the features section.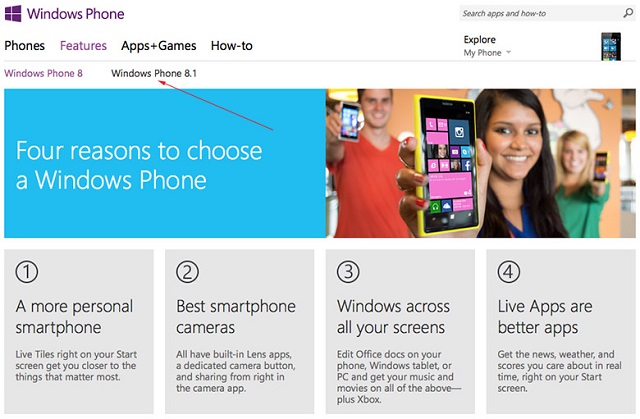 Hitting the Windows Phone 8.1 will take you to a error page but Microsoft has confirmed the name 'Windows Phone 8.1'. The mention has been removed as of now but we have a picture of the same.  Not much is revealed but we are sure to see the mention back again with all the Windows Phone 8.1 features after the Build event, which will be held on April 2-3.
We already know a lot of things about Windows Phone 8.1. The most interesting of the lot is the Cortana voice assistant, which seems to be an amalgamation of Siri and Google Now.  We have already seen the Cortana voice assistant in leaked screenshots and a hands on video and things do look promising. There's also the Action Center, new Internet Explorer 11, Start Screen customizations and a lot of other features.
Nokia will also be unveiling new hardware running Windows Phone 8.1 at its April 19 event. We expect to see the Lumia 930, Lumia 630/635 and the Lumia 530.