Last year in July, Mukesh Ambani-led Indian telecom operator Reliance Jio launched the JioPhone – its first VoLTE enabled feature phone. The JioPhone, despite of being a feature phone, comes with some smartphone-like features. And, since last year, we have been hearing about the world's most popular messaging app – WhatsApp – coming to JioPhone. Well, those who have been waiting for WhatsApp to make its way to JioPhone will be happy to know that WhatsApp is finally available for JioPhone.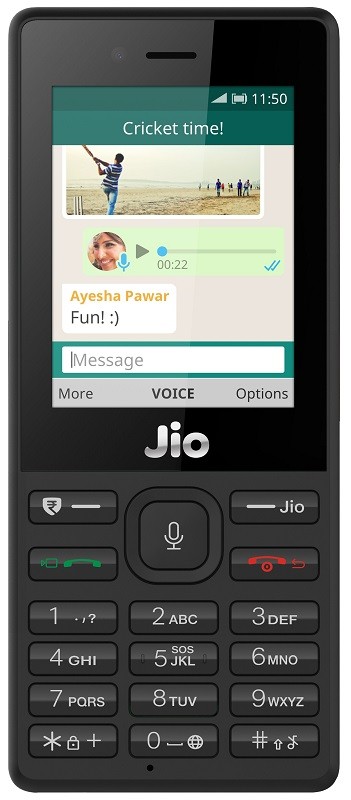 At its 41st Annual General Meeting (AGM) in July this year, Jio announced that JioPhone would get Facebook, YouTube and WhatsApp from August 15. While WhatsApp didn't arrive on JioPhone on August 15, after almost a month's delay, it's finally available for both JioPhone as well as the JioPhone 2 that was launched at the 41st AGM.
Both the JioPhone and JioPhone 2 are powered by KaiOS, and, the version of WhatsApp that's now available for these two feature phones has been specially developed for this mobile OS. However, the core features of WhatsApp that you get on Android smartphones and iPhone are also available for JioPhone and JioPhone 2. You can send photos and videos to your friends and family on WhatsApp in addition to sending voice messages. Furthermore, just like WhatsApp for Android and iPhone, WhatsApp for KaiOS is also end-to-end encrypted, which means no one other than the sender and receiver can see the messages.
If you own the JioPhone or JioPhone 2, getting started is pretty easy. All you have to do is download WhatsApp from AppStore, verify your phone number, and you are good to go.
"For the first time, WhatsApp will be available for JioPhone across India. WhatsApp built a new version of its private messaging app for JioPhone, running the KaiOS operating system, to give people a simple, reliable, and secure way to communicate with friends and family." said WhatsApp in a blog post.
With that being said, WhatsApp is not the only app available for smartphones that has made its way to JioPhone and JioPhone 2. Back in early December last year, JioPhone got Google Assistant with support for both Hindi and English language. Google Assistant is also available for JioPhone 2. Furthermore, both the phones also have Google Maps which means JioPhone and JioPhone 2 users can get directions and search for locations.
If you happen to be someone who owns a JioPhone or JioPhone 2, and has already installed WhatsApp, let us know how your experience has been so far.