We all know by now that Windows Phone 8.1 will be bringing a huge number of features and one of the most exciting features that is supposedly coming is the Windows Phone 8.1 Cortana voice assistant.
The Windows Phone 8.1 Cortana voice assistant is set to be Microsoft's answer to Apple's Siri and Google Now. We first came to know about the existence of Cortana last year and recently, we have had it almost confirmed thanks to the reliable sources. And now, we have come across some details of the Windows Phone 8.1 Cortana voice assistant, thanks to the sources at The Verge.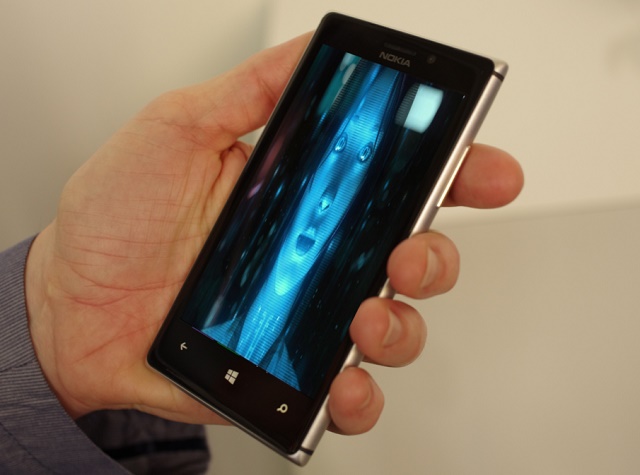 Reportedly, the Cortana voice assistant will replace the Bing search feature that is present in the current iteration of Windows Phone. Cortana is said to be a mix of Siri's peronality and Google Now's contextual features. When you'll open up Cortana, an animated circular icon will come up which will show up emotions based on your queries like "animate when it's speaking or thinking, and bounce around or frown" which is pretty cool.
We had reported earlier that Foursquare will power the Cortana voice assistant and those reports are re-confirmed here. Cortana will use services such as Bing, Foursquare and others to bring you contextual information similar to Google Now.
Cortana will also bring a privacy feature dubbed Notebook which will let users control what information they want Cortana to have and what not. Notebook will allow Cortana to access information such as location data, behaviors, personal information, reminders, and contact information and you can control what not to share with Cortana. Cortana will learn everything over time but won't store your personal information unless you allow. You can also go ahead and edit or delete information stored in the Notebook. Cortana will use all these information to bring you answers and contextual info.
Cortana will greet you by your name and ask if you need any help or suggestions. In these use cases, it'll be pretty similar to Apple's Siri. Cortana will respond to emails and texts that feature phrases like "let's meet tomorrow at 8PM" and ask the user if they want to set up a reminder or any calender entries. Cortana will also give you contextual info on the "weather, stocks, directions, appointments, and music" based on your location data. Cortana will also manage a 'do-not disturb' feature which will mute notifications akin to iOS. Microsoft's voice assistant will also manage an "inner circle" in the contacts whose notifications won't be muted.
Windows Phone 8.1 surely looks set to bring the OS on par with Android and iOS in terms of features as there are a plethora of features coming with the notable ones being the Cortana voice assistant, the Action Center, a Swype like keyboard, updated Internet Explorer, background images for the Start Screen, on-screen navigation buttons and much more.
All in all, the Windows Phone 8.1 Cortana voice assistant seems a great mix of Siri and Google Now and we can't wait to know more. It will be interesting to see if Cortana works well in countries other than the US. We should know everything in April at Microsoft's annual Build conference.