Windows Phone 8.1 leaks fail to stop as now, we have a new video leak, which shows us the WiFi Sense feature that is part of the Windows Phone 8.1 update.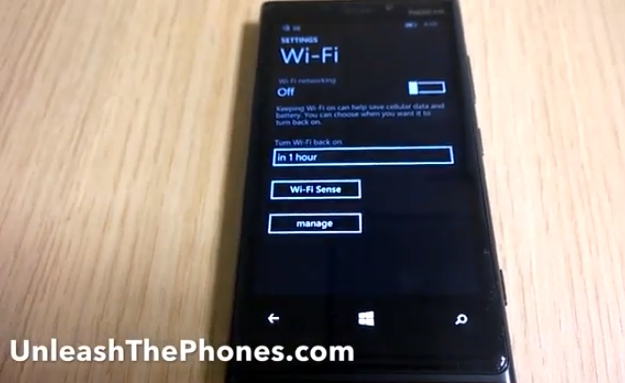 WiFi Sense is a cool little feature, which will bring the ability to set a timer on your WiFi connection. You can select the time frame in which you would want the WiFi to be automatically turned on. There's also the ability to share a WiFi network with your friends on Facebook, Outlook and Skype. This feature will allow them to use the WiFi network even without the password, which is pretty cool.
There are a huge number of features coming with Windows Phone 8.1. We came to know some of the basic new features through the Windows Phone 8.1 SDK leak, then we came across leaks for Action Center, Cortana was detailed along with a video leak. There were leaks for Internet Explorer 11 along with Start Screen customizations .
While there are a number of features incoming, we don't see much of a difference in the interface apart from the new Start Screen. Microsoft might be planning to make the OS feature rich with Windows Phone 8.1 and bring a visual overhaul with Windows Phone 8.5. Well, this is just wishful thinking at the moment. Anyways, we can be pretty sure that Windows Phone fans are in for a treat in the upcoming few months.