Airtel has launched its Airtel 5G Plus services in Agartala, the capital and the largest city in the Tripura state. Today, Airtel announced its 5G services in Dehradun, Uttarakhand, and now the 5G services have been extended to Agartala city in the country. Airtel is expanding its services in multiple cities all over India at a rapid pace.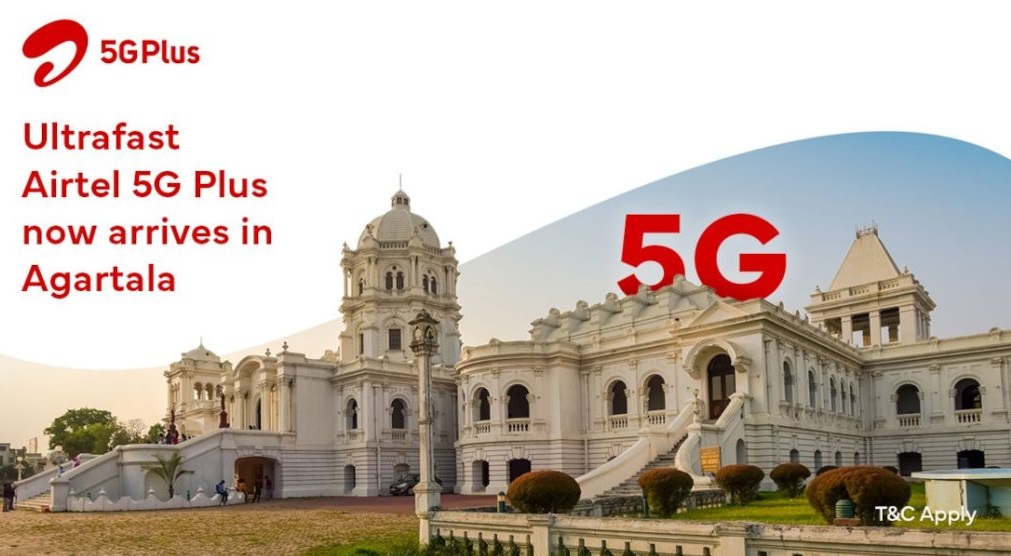 Airtel 5G Plus service is currently operational in the following areas in Agartala.
Areas covered in Agartala
Airtel 5G Plus is currently operational at Tripura Secretariat, Chowmuhani Bazar, Santipara, Durjoy Nagar, Jogendra Nagar, Amtola, East Champamura, Rani Bazar, Mohanpur, Chandrapur, Indranagar, Sib Nagar, Kanchan Nagar, Khayerpur, Madhya and Charipara in Agartala.
Commenting on the launch, Rajnish Verma, CEO Assam and North Eastern States, Bharti Airtel said, "I am thrilled to announce the launch of Airtel 5G Plus in Agartala. Airtel customers in Agartala can now experience ultrafast network and enjoy speeds upto 20-30 times faster than the current 4G speeds. We are in the process of lighting the entire city which will allow customers to enjoy superfast access to High-definition video streaming, gaming, multiple chatting, instant uploading of photos and more."
Airtel said it will augment its network making its services available across the city in due course of time. Airtel 5G Plus services will be available to customers in a phased manner as the company continues to construct its network and complete the roll-out. Customers with the fifth-generation mobile system (5G)-enabled devices will enjoy hi-speed Airtel 5G Plus network at no extra cost until the roll-out is more widespread.
Airtel has already rolled out its 5G services in multiple cities including Noida, Ghaziabad, Faridabad in Delhi-NCR, Jaipur, Udaipur, Kota, Agra, Meerut, Gorakhpur, Kanpur, and Prayagraj, Bhubaneswar, Cuttack, Rourkela, Hissar, Rohtak, Indore, Jammu, Srinagar, Ahmedabad, Gandhinagar, Imphal, Shimla, Delhi, Mumbai, Bengaluru, Chennai, Hyderabad, Nagpur, Siliguri, Varanasi, Panipat, Gurugram, Guwahati, Patna, and Lucknow, and various Airport locations, Universities, Temples, and a few others.
Airtel has already confirmed that it will cover its 5G services in all of urban India in 2023 and then across the country by March 2024. Since the existing Airtel 4G SIM is 5G enabled, no SIM change is required to enjoy 5G services.