Reliance Jio has rolled out its True 5G services in 20 more cities across 11 states/union territories. This is after it rolled out in 17 more cities last week, in 34 cities, and in 50 cities last month. The Jio True 5G service is now available across 277 cities all over India, says the company. Airtel said that it has become the first and the only operator to launch 5G services in the majority of these cities.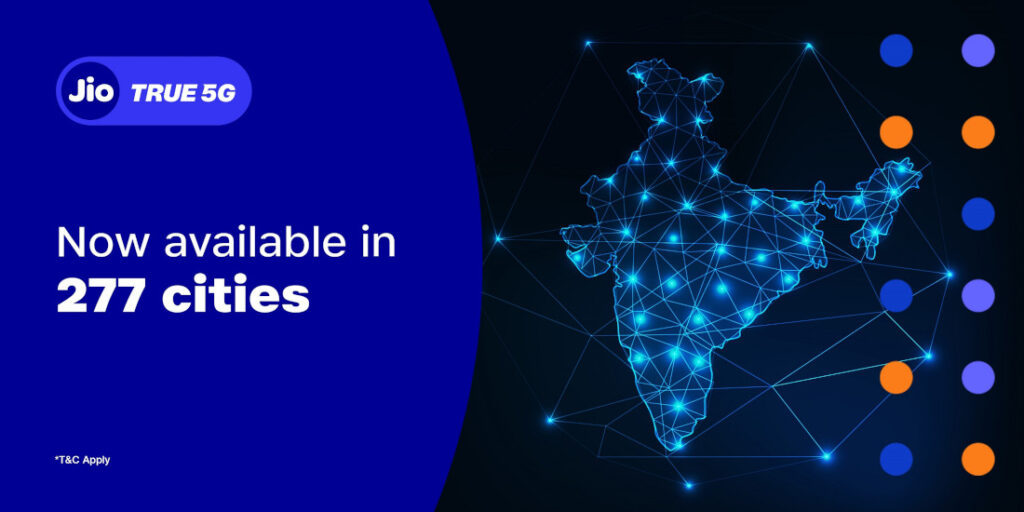 The 20 cities across 11 states/union territories include – Bongaigaon, North Lakhimpur, Sivasagar, and Tinsukia in Assam; Bhagalpur, and Katihar in Bihar; Mormugao in Goa; Diu in Dadra and Nagar Haveli and Daman and Diu; Gandhidham in Gujarat; Bokaro Steel City, Deoghar, and Hazaribag in Jharkhand, Raichur in Karnataka; Satna in Madhya Pradesh; Chandrapur, and Ichalkaranji in Maharashtra, Thoubal in Manipur; Faizabad, Firozabad, and Muzaffarnagar in Uttar Pradesh.
List of 20 cities to get Jio True 5G service.
Bongaigaon Assam
North Lakhimpur, Assam
Sivasagar, Assam
Tinsukia, Assam
Bhagalpur, Bihar
Katihar, Bihar
Mormugao, Goa
Diu, Dadra and Nagar Haveli and Daman and Diu
Gandhidham, Gujarat
Bokaro Steel City, Jharkhand
Deoghar, Jharkhand
Hazaribag, Jharkhand
Raichur, Karnataka
Satna, Madhya Pradesh
Chandrapur, Maharashtra
Ichalkaranji, Maharashtra
Thoubal, Manipur
Faizabad, Uttar Pradesh
Firozabad, Uttar Pradesh
Muzaffarnagar, Uttar Pradesh
Jio users in these 20 cities will be invited to the Jio Welcome Offer under which users will get unlimited 5G Data at up to 1 Gbps+ speeds at no additional cost and experience the Jio True 5G.
Commenting on the occasion, Jio Spokesperson said, "We are proud to roll out Jio True 5G services in these 20 cities across 11 states/UTs. With this launch, Jio users across 277 cities can enjoy the transformational benefits of Jio True 5G in the new year 2023.
These newly launched True 5G cities are important tourism and commerce destinations as well as key education hubs of our country. With the launch of Jio's True 5G services, consumers of the region will not just get the best telecommunication network but will also get infinite growth opportunities in the areas of e-governance, education, automation, Artificial Intelligence, gaming, healthcare, agriculture, IT, and SMEs.
We are grateful to the State Governments and Administrators of Assam, Bihar, Goa, Dadra and Nagar Haveli and Daman and Diu, Gujarat, Jharkhand, Karnataka, Madhya Pradesh, Maharashtra, Manipur and Uttar Pradesh for their continuous support in our quest to digitize the region."
Last year, Reliance Jio announced the launch of its True 5G service for the first time in India on the occasion of Dussehra alongside the Jio 5G Welcome Offer under which users will get unlimited 5G data with up to 1 Gb/s speed. In December 2022, Jio launched its True 5G services in Gujarat, the first state in India to receive 5G coverage to 100% district headquarters, and then expanded to 11 more cities across the country. After Indore and Bhopal, four more cities – Gwalior, Jabalpur, Ludhiana, and Siliguri are added and then the True 5G services expanded to Assam. Then 6 new states of the North-East circle, and 50 cities across 17 states which was Jio's largest multi-state roll-out at that time.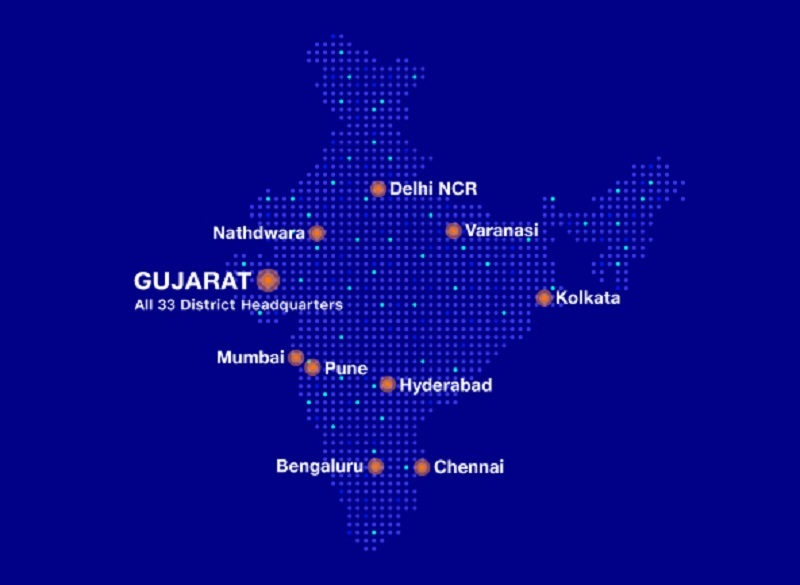 Jio 5G is already available in many states including Gujarat, Maharashtra, Andhra Pradesh, Chhattisgarh, Assam, West Bengal, Bihar, Haryana, Punjab, Odisha, Rajasthan, Tamil Nadu, Kerala, Telangana, Uttar Pradesh, Arunachal Pradesh, Nagaland, Mizoram, Meghalaya, Tripura, and many cities including Bengaluru, Chennai, Delhi-NCR region, Delhi, Hyderabad, Mumbai, Kolkata, Pune, and many more.
Jio's 5G network will be present across all primary areas and localities including most residential areas, hospitals, schools, colleges, and universities, temples, as well as, Government buildings, high streets, malls & markets, high footfall areas such as tourist spots, and hotels, tech-parks, roads, highways, and Metros.
Check if your smartphone supports Jio 5G