Airtel rolls out its Airtel 5G Plus services in four cities in Bhopal, Ujjain, and Gwalior in Madhya Pradesh. The company has already launched its 5G services in Indore last month. The announcement is made alongside the launch of its 5G services in Itanagar in Arunachal Pradesh. Airtel customers in all these cities will be able to use 5G services at no additional cost.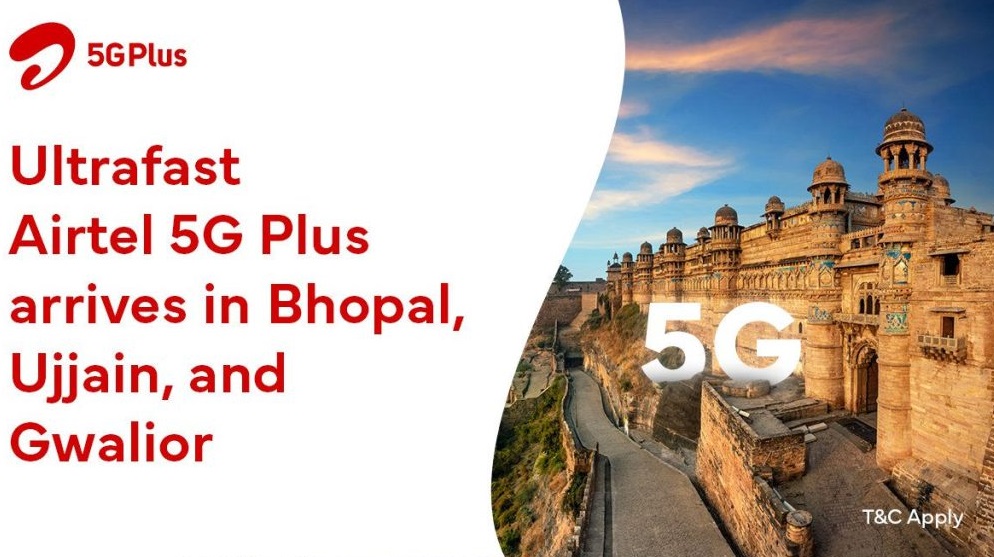 Airtel 5G Plus service is currently operational in the following areas in these cities.
Areas covered in Bhopal
Airtel 5G Plus service is currently operational at 0 Number Bus Stop, Malviya Nagar, BHEL, Arera Hills, Vallabh Bhawan, Kolar Road, Bhadbhada Road, Indrapuri, Bairagarh, Idgah Halls, and Koh-e-Fiza in Bhopal.
Areas covered in Ujjain 
Airtel 5G Plus service is currently operational at Mahakaal Kshetra, Naghjhiri, Bapna Park, Shanti Nagar, Vasant Vihaar, Kamri Marg, Begam Bagh, Juna Somwariya, Maksi Road Audyogik, Kshetra and Uddayan Marg in Ujjain.
Areas covered in Gwalior
Airtel 5G Plus service is currently operational at City Centre, Gulmohar Colony, Gol Pahariya, Govindpuri, Maharaja Complex, Kila Gate, Hazira, and Vinay Nagar in Gwalior.
Sujay Chakrabarti CEO, Bharti Airtel, Madhya Pradesh and Chhattisgarh said, "I am thrilled to announce the launch of Airtel 5G Plus in Bhopal, Ujjain & Gwalior in addition to Indore. Airtel customers in these four cities can now experience ultrafast network and enjoy speeds up to 20-30 times faster than the current 4G speeds. We are in the process of lighting up entire cities which will allow customers to enjoy superfast access to High-definition video streaming, gaming, multiple chatting, instant uploading of photos and more."
Since the existing Airtel 4G SIM is 5G enabled, no SIM change is required to enjoy 5G services. Airtel said it will augment its network making its services available across many other locations in these cities in due course of time. Airtel has already confirmed that it will cover its 5G services in all of urban India in 2023 and then across the country by March 2024.
Airtel has already rolled out its 5G services in multiple cities including Kozhikode, Trivandrum, Thrissur, Warangal, Karimnagar, Vijayawada, Rajahmundry, Kakinada, Kurnool, Guntur, Tirupati, Coimbatore, Madurai, Trichy, Hosur, Puri, Noida, Ghaziabad, Faridabad in Delhi-NCR, Bhubaneswar, Cuttack, and Rourkela, Jaipur, Udaipur, Kota, Agra, Meerut, Gorakhpur, Kanpur, Prayagraj, Hissar, Rohtak, Samba, Kathua, Udhampur, Akhnoor, Kupwara, Lakhanpur, Khour, Jammu, Srinagar, Ahmedabad, Gandhinagar, Imphal, Shimla, Delhi, Mumbai, Bengaluru, Chennai, Hyderabad, Nagpur, Siliguri, Varanasi, Panipat, Gurugram, Guwahati, Patna, and Lucknow, and various Airport locations, Universities, Temples, and a few others.